Novel Treatments for Schizophrenia: Prevention and Cognitive Remediation
Columbia University Center for Continuing Medical Education (CME)

This course, presented by an outstanding faculty of experts, offers a comprehensive view of leading-edge thinking in the treatment of schizophrenia. This activity:
Is designed for primary care physicians, psychiatrists, and other healthcare practitioners who see a significant number of patients with mental illness
Features two 60-minute video presentations and a 30-minute roundtable discussion
Includes case-based discussions and presentations
Features post-learning assessments to measure changes in practice and care of patients; results will be made available to all participants
Awards a maximum of 4.0

AMA PRA Category 1 Credit(s)™

(this includes the possible 1.0 credits for completing the outcomes surveys)
This activity is presented by Columbia University College of Physicians and Surgeons in cooperation with Frameweld. It is supported by an educational grant from Pfizer. Please review the CME information before you begin the course.
Distribution Date: July 5, 2011
Expiration Date: July 4, 2012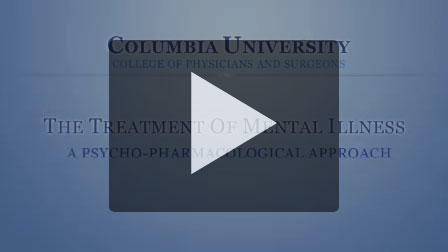 Preview the Faculty's Presentations
Presenter Name
02:15
Novel Treatments for Schizophrenia: Prevention and Cognitive Remediation explores an integrated approach to the treatment of schizophrenia, considers methods of identifying high-risk individuals early, and discusses the latest thinking on preventing schizophrenia. Topics include cognitive dysfunction and remediation, the prodromal period that precedes schizophrenia onset, emerging literature on prevention strategies, and the importance of an integrated treatment approach, among other topics.


Presented by Alice Medalia, Ph.D.
Cognitive impairment is a core symptom of schizophrenia that has been linked to poor functional outcome, and it is therefore important to recognize and treat it.
This presentation will review the nature, significance and course of cognitive dysfunction in schizophrenia and explain developments in behavioral treatments to improve cognition. Cognitive remediation is a behavioral intervention consisting of training activities that aim to target a range of cognitive impairments, with the ultimate intent of improving functional outcome.
In this course, you will learn about the common principles of cognitive remediation for schizophrenia and the empirical support for doing cognitive remediation. Research on the variables affecting treatment outcomes will be reviewed, and a case example will be presented to demonstrate how cognitive remediation can be integrated into clinical practice.

Presented by Cheryl Corcoran, MD
Schizophrenia is a chronic illness refractory to cure that causes untold suffering for patients and their families. The first episode of psychosis occurs in adolescence and young adulthood, but prior to this time there typically is a prodromal period of a few years that is characterized by attenuated or subthreshold psychotic symptoms, negative symptoms, mild cognitive deficits, and social and other functional impairment. There is an effort underway to identify youths at heightened clinical risk for schizophrenia and related psychotic disorders during a putative prodromal period.
In this course, you will learn about the phenomenology of the psychosis risk syndrome, its operationalized criteria, candidate biomarkers of psychosis risk, and the emerging literature on pharmacological and psychological strategies for preventing psychosis and treating concurrent symptoms and functional impairment.

Led by Philip Muskin, M.D.
Schizophrenia is often treated with medication alone, and talk therapy approaches are not considered. In this roundtable discussion, Course Director Philip R. Muskin, MD, leads a discussion with presenters Alice Medalia, PhD, and Cheryl Corcoran, MD, that challenges this traditional view.
Drs. Medalia and Corcoran discuss the importance of an integrated approach to treatment, and talk about case studies that show that cognitive behavioral therapy and lifestyle coaching can be successful in dealing with the wide range of psychological and social issues faced by patients with schizophrenia. Addressing low self-esteem, social isolation, difficulty coping, and high stress levels can affect the symptoms and course of schizophrenia.
Information is offered to help practitioners find or start psycho-education programs. Listeners are encouraged to e-mail questions, which will be answered and posted on this website once a month.

*You must be registered and logged in to take the course. You must watch the first two lectures (any order) before the roundtable discussion is available for viewing.
Note: No patient identifying information is used in this course. Where names and photos are used, these have been changed and do not identify actual patients.